Need help?
Submit it now and we'll respond as soon as possible.
Recruitment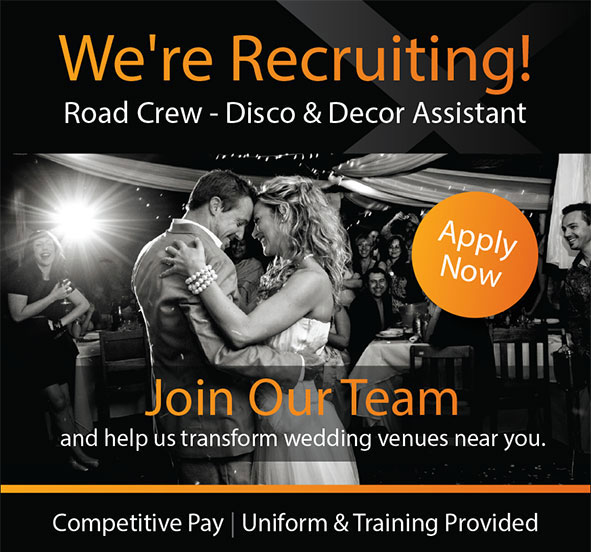 Road Crew – Disco & Décor Assistants Required – Competitive rates – Please Apply NOW…
Our company is very different to most mobile disco's. We seek perfection in the presentation of our equipment installation, layout and design as well as the customer service we offer to every client & venue we visit. The personal appearance & attitude of our Road Crew Staff is very important to us.
If you have the following attributes, please enter your details in the form below and we will make contact with you shortly.
The ideal candidate will have the following attributes:
• Excellent Time Keeping
• Utmost Reliability
• Availability to work over weekend periods
• Team Player
• Customer Facing Confidence
• Physically fit (Lifting of heavy equipment will be involved)
• Smart Appearence (Uniform will be supplied)
• Interest in popular music (most of our work is Wedding Receptions 1955-current charts)
• Professional Manner (We operate in prestigious venues across several counties)
NOTE:
1. A full, clean drivers license would be an advantage, although not essential
2. This role involves working unsociable hours, mostly on Fridays, Saturdays & Sundays
3. Full Training will be provided on the installation of our sound & lighting equipment
Equinox-Storm Wedding Discos, Venue Decor, Special Effects, Mood Lighting & Drapery Backdrops. All rights reserved.
We provide Wedding Discos and a Venue Decor Service across North London, Hertfordshire, Bedfordshire, Buckinghamshire, Oxfordshire, Northamptonshire, Leicestershire, Cambridgeshire & Essex.