What's included in the ALL INCLUSIVE Wedding Package:
4 hour All Inclusive Wedding Package priced at £550.00
Including:
Professional Wedding DJ
Uniformed Roadcrew
Choose your own Music from our On-Line Library of 21,000+ tracks
Top Of The Range BOSE Sound System – A Distinctive Quality Sound
Latest Green Laser Light Show
Classy 2 Meter wide starcloth DJ Booth
3 Meter Professional Starcloth Backdrop System
High End NightClub DanceFloor Intelligent Lighting
Special Effect Units, Haze & Ultra Violets
Wedding Options List to Personalise Your Reception
FREE Studio Consultation & Demonstration to Discuss your Package
Glow Sticks & LED novelties available for your guests to purchase on-the-night
£10M Public Liability Insurance & Portable Appliance Testing Certification
PACKAGE UPGRADE OPTIONS:
If you want that wow factor and something really different, you can upgrade the All Inclusive Wedding Package with any of the options below…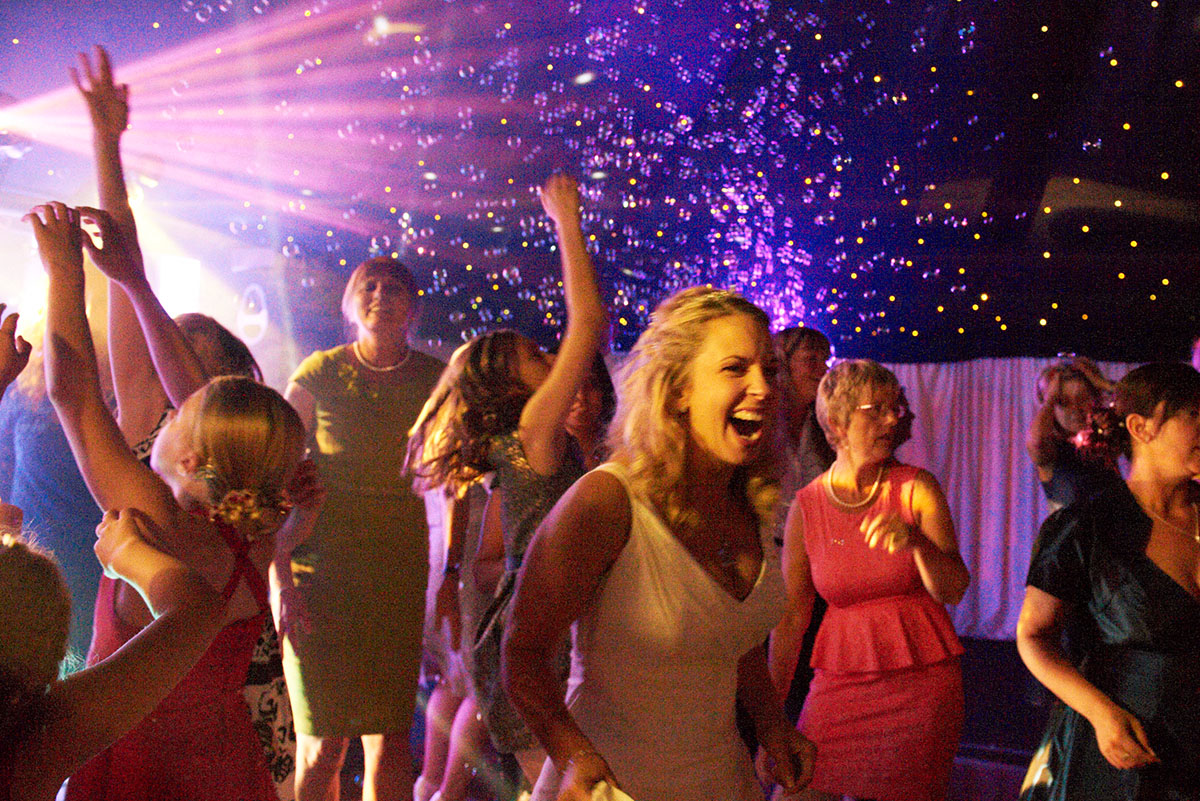 UV Bubble Generator
Upgrade for ₤80 extra
Details:
Our two powerful night club bubble machines will produce thousands of ultra violet bubbles that will glow purple as they romantically fall onto your dance floor.
We will operate the machine periodically throughout the night to produce a magical effect.
Venue Alive EXTREME - External Mood Lighting
Upgrade for ₤40 per unit
Details:
Light the outside of your venue in an array of stunning colours… Create the wow factor and impress your guests.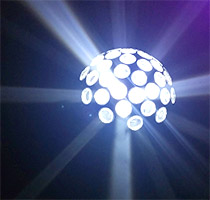 Astro Ceiling
Upgrade for £30 per unit
Details:
Create a stunning LED mirrorball effect on the ceiling above your dancefloor or across your entire function room or marquee. Great for creating a romantic atmosphere at a Wedding Reception. Looks amazing for the 1st Dance & throughout the evening… Larger venues may require 4 -8 units for total coverage.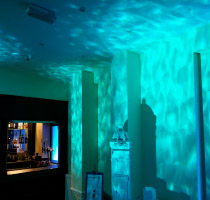 Water Projectors
Upgrade for ₤40 per pair
Details:
Our new water ripple lighting projectors create a realistic moving water effect when positioned on any bright coloured surface such as the white walls of a marquee. This unit can run throughout the length of your disco creating an amazing special effect or used in conjunction with our Fire projectors why not have a Fire and Ice theme as a chill out area for your guests; how cool is that!

Venue Alive - Indoor Mood Lighting System
Upgrade for ₤20 per unit
Visit our studio to see a demonstration of this system.
Whether your venue is traditional or modern our digitally controlled LED lighting will as the name suggests; bring YOUR venue ALIVE!
These individual lighting units can be positioned as pictured to light balconies, statues, fireplaces, pictures or walls.
Their application is endless. This technology will allow us to quickly change the appearance of your venue in a cost effective manner. Great, if you have a colour theme!
When the party gets going the lights can change colour to the beat of the music and create an amazing atmosphere at your function. Choose up to 2 meter spacing between each lighting fixture to create the look that you prefer and to fit your budget…
Simply measure what area you would like covered, decide upon the spacing between the fixtures and you can work out how many fixtures you will need and how much it will cost.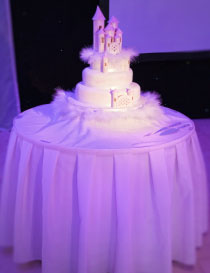 Pin Spot Illumination of the Wedding cake
Upgrade for ₤40
Details:
Show off your Wedding Cake by elegantly lighting the cake table and the cake itself!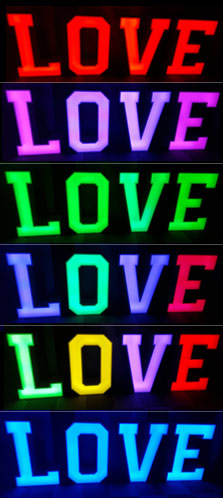 Illuminated LOVE Letters
Upgrade for £199
Details
A great addition to your Wedding, our Illuminated LOVE letters stand at either one foot tall or four foot tall. They can be illuminated in your colour theme or multiple colours and are priced very competitively at just £199.
*All of our letters are indoor use only*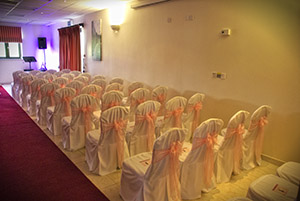 Civil Ceremony Package
Upgrade for £250 extra
Details
Providing that you have Booked the All-Inclusive Wedding Disco Package with Equinox-Storm we also offer our Wedding Ceremony Package to add that professional touch to your civil ceremony. We will provide a discreet Bose sound system to stream background music during the seating of the guests, we will liaise with your registrar on the day and control the arrival of bride music, signing of the register music, exit of the Bride & Groom music, exit of the guests music. We will also spotlight the Bride as she walks down the aisle. This package will add a touch of class to your civil ceremony and take away all of the worries that normally go with hosting the civil ceremony music.
Illuminated Cocktail Tables
Upgrade for £45 each
Details
The tables look great as part of the evening reception furniture and can be illuminated in your colour theme or a mixture of colours…
Not only do they look stunning and add a new dimension to your evening reception, but you will find that your guests will gather round them to have conversations and use them as a convenient place to put their drinks…
We would recommend about 6 tables to create an impact, but you can have as many or as few as you wish….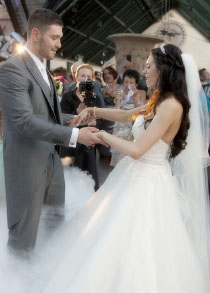 Dry Ice
Upgrade for ₤150 extra
Details:
Just as seen on TV! You can 'dance on a cloud' for your first dance. Unlike most disco companies, we use Dry Ice. This is the real deal, chilled at  -78.6°C our fog will hug the dance floor and will not rise above your knees! This effect looks absolutely amazing and will not affect any venues smoke detectors!! Creates a fabulous 1st dance picture.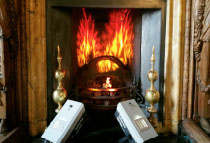 Fire Projectors
Upgrade for ₤40 per pair
Details:
Our new flame lighting projectors create a realistic flame effect when positioned on any bright coloured surface such as the white walls of a marquee or the bar area. This special effect can run throughout the length of your disco to create a visual inferno on your dance floor or used in conjunction with our Water projectors why not have a Fire and Ice theme as a chill out area for your guests; how cool is that!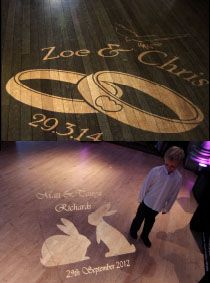 Logo Projector
Upgrade for £50 extra for each projection
Details:
The Logo Projector can project the names of the Bride & Groom, your initials, wedding date and/or graphics (see pictures). You can select your design from an extensive collection to produce a custom gobo for Equinox-Storm to project your chosen image onto the dance floor, ceiling or wall of your venue. The projection can be static or can slowly rotate. Each unit can project only one logo or message at a time. Personalise your function! Have your name in lights!! A real classy touch for your celebration.
+ additional charge for manufacture of your customised gobo
All of our Gobo's are manufactured by GoboSource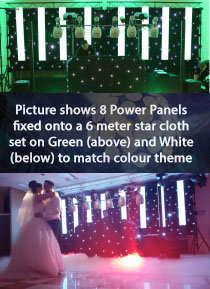 Venue Power Panels – Equalizer Backdrop
Upgrade for £40 per panel
Details:
Fixed to a trussing support frame these impressive high powered, superbright LED panels act as a backdrop to your DJ to create an upmarket feel to your celebration. Earlier on in the day/evening they can be set as a fixed mood lighting feature (great if you have got a colour theme) and then when the party gets going they can become a syncronised bargraph/equalizer type lightshow. Your guests will be talking about these for months…..
Visit our studio for a demonstration!.
Modern & Impressive, You won't be disappointed!
We would recommend positioning 8 of these panels in front of a 6 meter starcloth; the result is visually stunning! Without doubt, the Venue Power Panels will create a fantastic backdrop to your disco that will take your celebration to a new dimension. On a budget?? Then why not put 6 Panels on your 3 meter starcloth included in your package! You Decide!!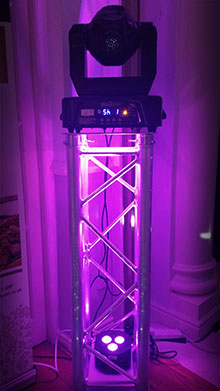 NightClub 360 Package
Upgrade for £200 for 4 Units
Details:
If you are looking for a true nightclub feel to your function then this is the ultimate upgrade option for you!
Standing on Aluminium Trussing podiums (uplit to match your colour theme) & using ultra smooth, micro stepping motors our 4 Professional moving heads literally Pan 540° and Tilt a further 270° putting everybody on YOUR dance floor in 360° club style action.
Fully controlled by our road crew team, our moving heads have the capability to help create a nightclub atmosphere using some of the latest technology.
These power packed lights will project 14 shapes and patterns and come equipped with the new gobo shaking effect. Used in conjunction with our haze machine that is already included in your all-inclusive package this upgrade is sure to wow your guests….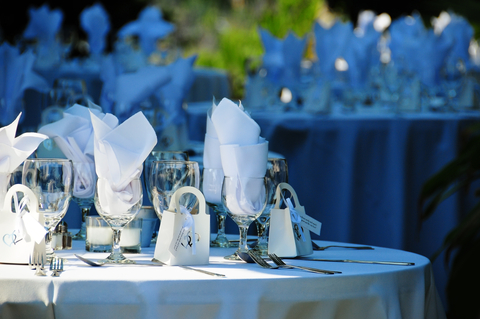 Pin-Spot Table Illumination
Upgrade for £20 each
Details:
Spot light each of your tables during the wedding  breakfast and evening reception in a colour of your choice…
Dim the lights in your function room and allow the Pin Spots to illuminate your tables; adding style & elegance to your reception…
Completely wireless and discreet, the spot lights are battery powered and will last up to 10 hours…
Please Note – Long Head Tables may require 2 or 3 lights. Round tables will only require 1 light.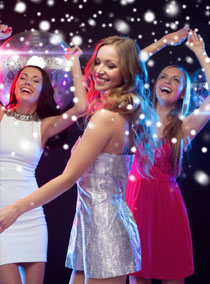 Snow Machine
Upgrade for £50
Details:
Mesmerise your guests with our new snow machines that are controlled by our roadcrew team to generate anything from a slow picturesque snowfall to an Ibiza foam party on your dancefloor.
9 Metre Star Cloth
Upgrade for £200 extra
Details:
This is a true wow factor and is worth every penny especially when used with our venue power panels.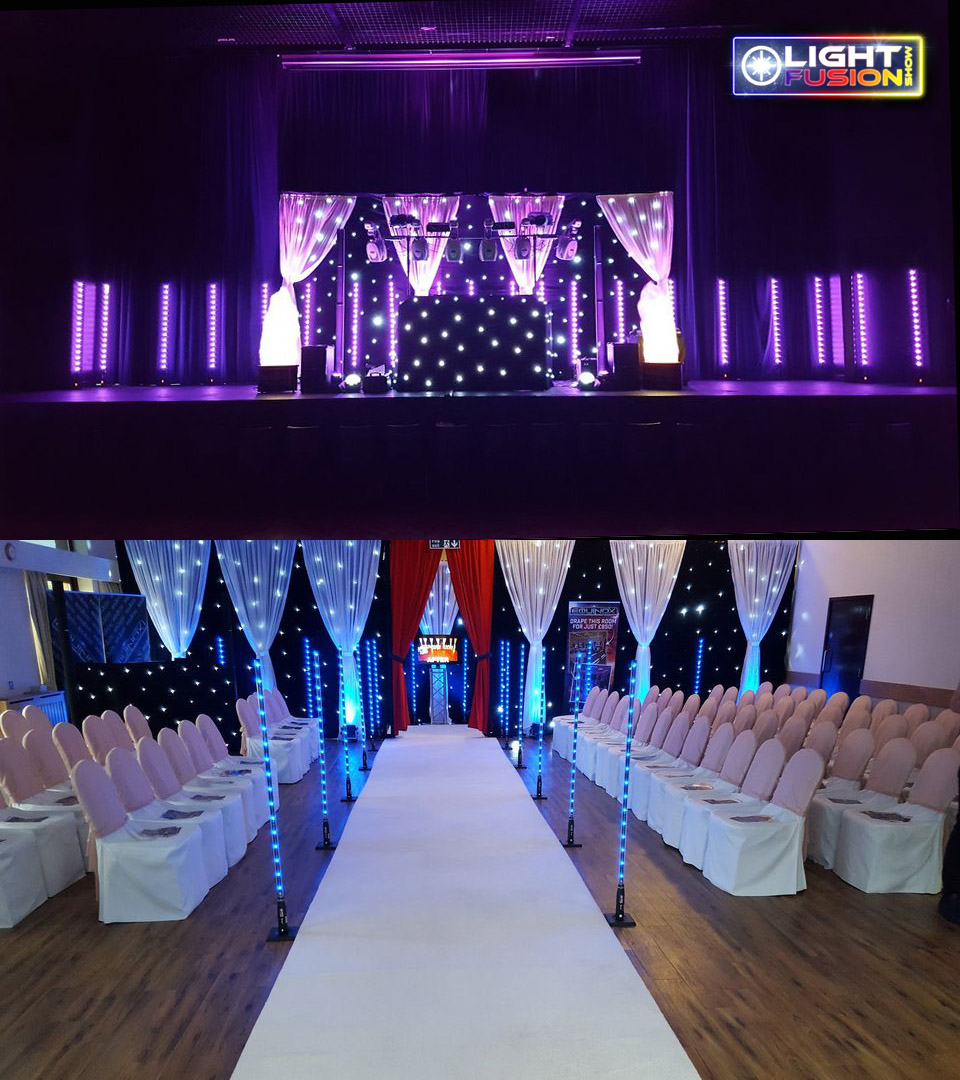 Light Fusion Show
NOW only £299!
Details:
The Light Fusion Show consists of 20 LED free standing perspex tubes. A striking NEW effect that can be used as dazzling tabletop centerpieces, outlining aisles, full room light shows and more, the Light Fusion Show will add pizazz to any event… Visit our studio for a demonstration… Was £399 LIMITED OFFER: NOW only £299!
Early Set-Up (with background music if required)
Upgrade for £80 extra
Details:
With this service you can arrange for us to set-up our equipment at any time prior to our standard arrival times (normally 90 minutes before your contracted start time). This may be useful if the entertainment is going to be in the same room as the Wedding Breakfast or if your function is being held in a Marquee. You wouldn't want us to arrive as you are just about to do the speeches!
This service is becoming very popular.
Please book well in advance.
Animated Laser Show
Upgrade for £150 extra
Details:
Bring this stunning Up Market Night Club effect to your celebration…
Animations include amongst many others a walking cat, running dinosaur, galloping horse, dancing Aztec character and a flying bird. The aerial patterns beamed through the air include circles, waves and flat lines. A real show stopper!
Our Animated Laser Show will amaze you & your guests.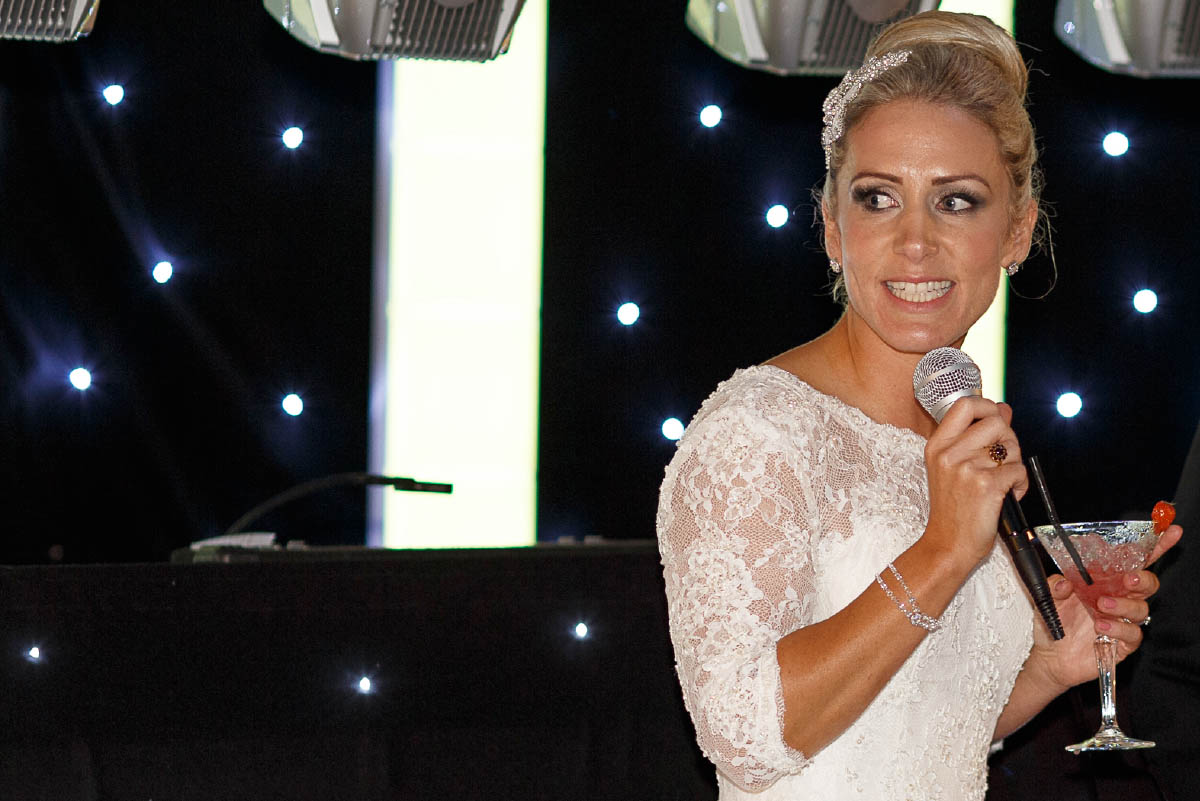 Radio Microphone
Upgrade for £100
Details:
With a range of up to 50 meters, we are offering our radio microphone that can be used anywhere in your venue to accommodate any announcements or speeches prior to your DJ arriving.
 * This service is only available when used in conjunction with our Early Set-Up service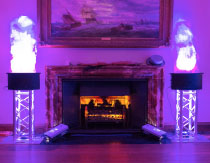 Silk Flames – Match Your Colour Theme!!
Upgrade for ₤50 each
Details:
Standing at 1.5meters tall our stunning Silk Flame effects will create a sophisticated atmosphere throughout the evening. The Flames can be programmed to match your colour theme and will look great at the entrance to your party, on stage with your DJ or either side of a feature or maybe the buffet table? Usually only seen on TV, now you can have these amazing effects at your function.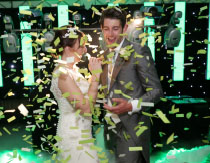 Confetti Cannon
Upgrade for ₤65
Details:
Our Professional compressed air charged cannons will silently disperse a striking aerial effect of 'slow fall' confetti over your dance floor. This is an amazing effect when fired at exactly the right time to create a perfect moment. See our website for our confetti options. Match YOUR colour theme!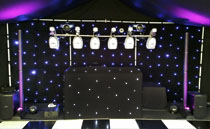 6 Meter Star Cloth Backdrop System
Upgrade for ₤100 extra
Details:
Your all-inclusive package already comes equipped with the 3 meter version of the star cloth, but the 6 meter really does put a whole new light on the evening! This is a true wow factor and is worth every penny especially when used with our venue power panels.
Oscar Style Entrance
Upgrade for £495
Details:
Why not create an Oscar Style entrance using our drapery & slik flames – Transform your function room beyond recognition- stunning!

Dynamic Drapery
Upgrade from £23
Details
Why not run our drapery all around your function room. Each unit purchased will cover 1 metre in width. Measure the length of the area you would like draped to calculate how much it will cost you. Our Drapery is the most impactive and cost effective in the UK. Our guarantee is that we won't be beaten on price. There are many combinations depending upon the look you prefer, maybe all White with swags or Black with White champagne glass shaped voiles – the choice is yours…
Maximum height of drapery is 3 metres tall. £23 per metre.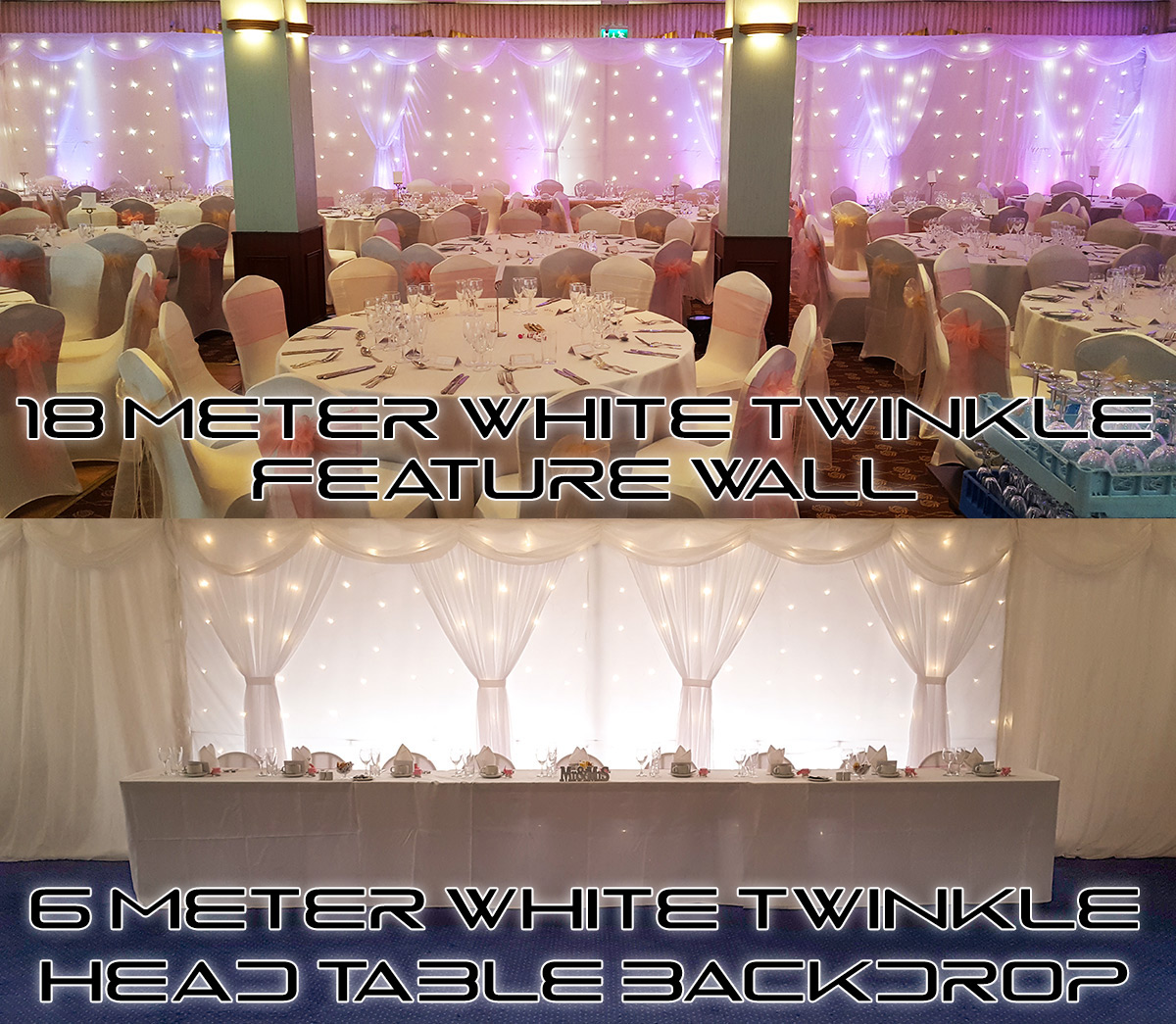 White Twinkle - Head Table Backdrop
Upgrade:
6 Meters - £350
12 Meters - £475
18 Meters - £600
Details:
Enquire about our amazing NEW White Twinkle Head Table Backdrop. Add a touch of class to your Head Table creating a stunning focal point and picture perfect backdrop.
The backdrop can run either 6 meters or 12 meters wide and up to 3 meters tall.
ON A BUDGET BUT WANT TO TRANSFORM YOUR VENUE?
Why not use our White Twinkle backdrop to make a Feature wall – truly stunning!
Cover an entire wall end to end up to 18 meters wide!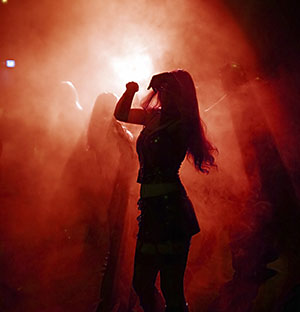 Vertical Mist Machine
Sold in pairs and priced to sell at just £50
Details
Our vertical mist machines are guaranteed to give you that X Factor CO2 gas effect look, providing a true wow factor for your guests adding a new dimension to the dance floor later on in the evening…. Our mist machines will simultaneously launch fog in a vertical jet up to 15 feet in the air. The fog will then disperse and help to enhance your lightshow.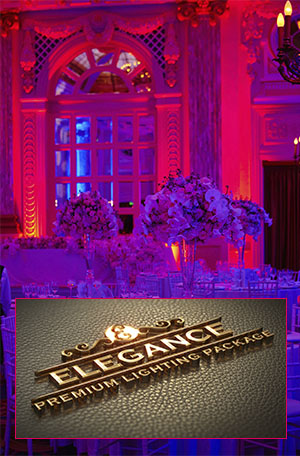 Elegance
£699 all-inclusive
Details
Our NEW Elegance Lighting Package is guaranteed to enhance the natural beauty of your function room and add a touch of class to your event.
This package consists of 24 professional grade uplighters angled to enhance all of the best architectural features of your room and provide a warm, but crisp ambience.
We will add 12 table pin spots to illuminate your table centres in soft white light adding an upmarket sophisticated feel to your room and our digital mirrorball effect providing gentle white light movement across the whole dining room.
This package will surpass your expectations by delivering a stylish addition or alternative to your venue dressing.
Design Your Disco
Please find below some ideas on how with Equinox you can build your disco to match your budget and colour theme!
Package Examples
Here are some 'real' examples that our clients have booked and have worked very well.
Select Music
YOU Choose YOUR Music
With Equinox-Storm you can choose all of your music in advance of your function in the comfort of your own home.
Upon booking we will provide you with a password to gain access to this function.
Or Simply….
IF YOU'D PREFER WE'LL PLAY A SELECTION OF SONGS FROM A SET PLAYLIST SUITABLE FOR YOUR FUNCTION & TAKE REQUESTS ON THE NIGHT…
Hosting Options
Equinox-Storm allows you to personalise your wedding reception and allows you to decide how your DJ hosts your event. You can choose from the following options free of charge:
Background music whilst guests arrive
Spotlight and feature of cutting the wedding cake
First Dance professionally hosted
Bride/Hen party fun dance
Groom/Stag party fun dance
Bridal throwing of the bouquet
Mr & Mrs Quiz Game- How well do you really know each other?
Removal of the garter
Buffet announcements/last orders
Archway as bride/groom leave
You can also decide how you would like your DJ commentary:
High impact (Regular announcements, Club/Radio style Dj'ing)
Or
Low key (Essential announcements only – more music; less talk)